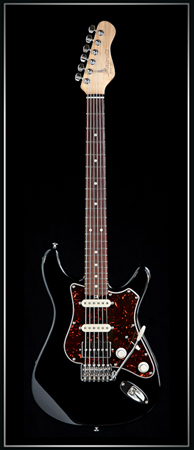 The Sonnet Crown crosses the boundaries of the traditional 3-single coil guitar. The body and neck designs deliver that snappy, midrange focused tone for which the Sonnet is known for. While the best woods and parts are being used, the whole is simply greater than the sum of its parts. Great attention to detail provided by master luthiers is what contributes to set this instrument apart.
The combination of 2 Lollar Blackface Neck & Middle pickups and 1 Magneto Custom Bridge Single Coil will offer new tonal variations. The bridge single coil is based on the classic P90 design in a humbucker format, it can sound raw and direct with some crunch but can also deliver sweet & quacky clean tones.
The push-push switch located on the tone control lets you combine both the bridge and the neck pickups for additional tones. The Vintage Style "Steel Tone" Tremolo was built to precision, using the finest steel saddle material and a cold rolled steel sustain block. As with all Magneto guitars, the electronic cavities are shielded, as are the pickguard materials.
The Sonnet Crown will let you explore a wide tonal spectrum which spreads from mellow ,60s style, neck single coil tone to a more direct, "Junior style" bridge single coil sound with enhanced clarity and chime.
<<SPECIFICATION SHEET>>



<<VIDEO PRESENTATION>>

| | | | | | | |
| --- | --- | --- | --- | --- | --- | --- |
| COLORS: | | Black | | | | |
| | | | | | | |